Our group was formed to encourage local St. Louis stamp collectors to exhibit in our local shows. Now that the Saint Louis Stamp Expo is a World Series of Philately accredited show, it is desirable that local collectors take home some of the prizes.
Saint Louis has a proud philatelic history. The first president of the American Philatelic Society, John Kerr Tiffany was a St. Louis businessman.
As the needs of our members evolve, we are prepared to evolve the group. We expanded our focus to include discussions of philatelic writing and techniques for PowerPoint presentations. If there is a need in the future, we will continue to evolve.
Meeting Space
| April 2021 | May 2021 | June 2021 | July 2021 | August 2021 | Sept 2021 | Oct 2021 |
| --- | --- | --- | --- | --- | --- | --- |
| Zoom | Hybrid: Some on Zoom, some at Marcus' | Hybrid: Some on Zoom, some at Marcus' | Hybrid | Hybrid | Revaluate | Revaluate |
We will continue to check our options
A Tribute to Lost Members
Two of our founders, David Straight and Elizabeth Nettles have gone to the never-ending stamp show.
David Straight
1955-2012
In a short life, David L. Straight accomplished more in philately than many do in a many decades-long career. David was a prolific writer and researcher. He published more than 250 articles ranging from pneumatic mail, to the history of the Registered Mail system, to the disgraceful treatment of E. G. Lewis by the Post Office Department, to extreme back-of-the-book topics. He had made acquaintances within the U.S. Postal Service who gave him access to more information about Post Office forms than has ever been published.

David was elected to the APS Hall of Fame in 2014.

Elizabeth Nettles
1933-2014
Dr. Elizabeth "Betty" Jane Nettles arrived in Saint Louis in 1957 to attend Washington University. Betty formed the greatest collection ever assembled of philatelic items related to the 1904 Louisiana Purchase Exposition and the Mails. She also assembled award winning collections of Hawaii's Iolani Palace postal cards.

Besides being an incredible mentor to all members of our group, she was a special friend.

Writeup from American Stamp Dealer and Collector, October 2007
What We Do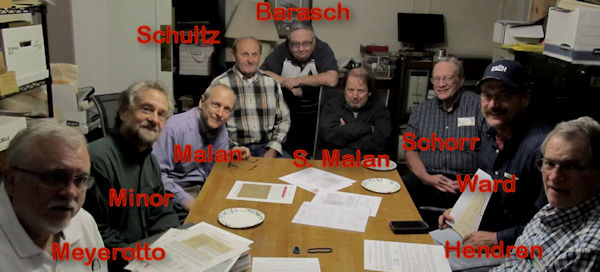 In the course of a year, we try to cover most subjects important to our exhibitors, for example (it can vary widely from this list depending on what people come prepared to show)
How to prepare title pages. What needs to be there. How to present your story line.
Writing a synopsis of your exhibit. What you can and cannot say.
St Louis Stamp Expo is days before our March meeting. We analyze what could have been done better.
How to set up an exhibit page using Microsoft Word. Here are the documents from the December 2011 meeting:
Help with mounting "hard to mount" items such as covers, complete sheets, over-sized things.
What will my material look like when it is projected on a wall?
We all have philatelic libraries; it is occasionally nice to know what others have that would help us out.
How to write-up your exhibit. What words to use. How much to write.
We look at members exhibits one last time before they head off to APS StampShow.
Picking the right archival "plastic" protection. What to do for over-sized pages, how heavy is heavy enough?